My whip shot straight and true! Thanks for this very fine bow!
Toekle Whip H.S., 48# @28
Easton camo hunter tipped with Ace broadhead. The shot was 18 yds.
Dan,
The bow you made me was the perfect companion on my goat hunt in AK. The takedown method is foolproof and masterfully done. It shoots where I point. Goat killed at 26 yds, quartering away, entry last rib, double lung, out other side and hit offside leg. He went about 30 yards and was dead on his feet. I'm still in shock. What an adventure.
Regards,
Mike
Hey Dan,
Michael varady here. Connected with a buck this morning with my new whip just want to let you know i am absolutely loving it. Can't talk this bow up enough.
Jason, with his Pika and their first Trad kill!
My cousin Mike LaCivita shot this nice Ohio buck with a 60" Toelke Whip. (He learned everything he knows about the best bows on the planet and how to tune arrows from me;)
Jon-
Thought I'd send you this. The new whistler is shooting pretty good! 10 yard shot with a cedar arrow and STOS broad head. He ran 50 yards. Thank you for a great bow!
-Lucas
Jason Hooley with some 3D success!
Paul achieved a remarkable accomplishment with his Whistler, well done Paul!
Tyler took this trophy pronghorn with his 62" Whip, great work and great photo!
Some good work from Kenny with his "holy grail" Pika.
John took this p&y(and b&c class) bear with his Whip, congrats!
Calling in a coyote and taking it with a longbow is quite an achievement, Jess did it TWICE with his 58" Whistler last year!
Congratulations to Mario on a successful hunt!
Biggest Alabama deer so far for me. Taken with 44# Whip Hs. Thanks for making such awesome bows!!
Garlan
Cliff with a great Whitetail!
23 yds complete pass thru. Magnus 2 blade on gold tip 500 with 100 gr insert. 30 yd recovery.
Thank you for such an awesome bow..
John LaCivita getting it done with his Pika!
Ben made a great shot on this nice Washington Mulie!
What an accomplishment, congrats!
Erich's Shiras moose he took with his Whip, congrats and well done!
This looks like a great adventure and a successful one. Congrats Steve, thank you for sharing!
John Lacivita showing what can be done with a Pika, he has been placing at many archery shoots as well as putting heavy arrows through game.
Keep up the awesome work John!
Congratulations to Wayne on a great 170class mule deer with his Lynx(discontinued)
Chad
Marco
(marco shoots a Pika)
my wife is keeping your bow brand high, took first price & overall at the Texas Hill Country shootout
wanted to send this pictures to you, she is in love with her Toelke whip
Kevin T. showing off an amazing season with his Whip!
Thanks for sharing and best of luck next season!
Tom V. made it happen with his Troll!
Brandon and a pig that met the Super-D!
David G. showing off some great shooting with his long Whip!
Mark and his great Toelke recurve harvest!
Todd G. and a great whitetail buck he took with his Pika!
Ed Hamman sporting a first place trophy and his 66" Whip Classic!
James H with his Toelke harvest's, nice work!
Thought you might like to see this.
Hey Dan just picked up a Whip and I love it!! I shot every day for two weeks and on the turkey opener in MT I called this bird in to the decoys at 10 yards. I had all the confidence in the world when I came to full draw and I wasn't disappointed. My first traditional harvest.
Todd Z. With a Super-D Harvest
Great job Todd!
Todd G. with his Pika and his first traditional big game harvest
Congratulations!
Tyler M.'s loaded pack after some Whip success!
Josh S. and a hog whitetail he took with his 60" 50# Chinook @ 19yards
Congratulations Josh!
Malichi Whipping a nice buck!
Not exactly customers but hey we kill stuff too!
Jared and Dan with Jared's early October Bull.
56" Pika 54#
Gold Tip Trad. Classic 400@30" with 150gr Stinger
Wayne with a great bear he Super-D'd!!
Couple nice pigs taken my Michael!
Matthiew M. with a bull elk!
Congratulations to Michael S. who took this great Tom with a 52" Troll Recurve
Michael and a spring Gobbler he took with his Pika!!
Marty with another great Sitka Blacktail!
Stephen's new Super-D and the nice buck he shot with it!
Well done and thanks for the picture!
Dan this is my 2nd deer I've whipped in Ohio this week with the bow you made I've put a great shot on each deer along with a pass through on both. I used the woodsman elite broad heads paired with the small diameter Easton axis traditionals . I'm a toelke fan through and through and hope to purchase another bow soon , thanks Corey
Hi Dan, just wanted to drop you a line from ohio, and let you know that the 46# whip you made me has already taken my 1st two does over last couple weeks.. Both clean pass throughs from a tree stand. One was a pieball with white feet which im making to hang my bow.. Ill be in touch for a recurve early next year. I'll send you a few pics. Steve
Hello Dan and Jared I got a nice doe today with my beautiful black and white ebony Lynx!! Axis 500 shaft and a 125 grain Magnus snuffer. Toelke Lynx 50@28. I want to thank you for making such great bows and the best customer ever!! You guys rock!
Bob with a buck he took with his pika!
Congratulations!
Steffen with a Idaho buck he took with a Pika.
Congratulations!
been a good year so far, my dad (Nyle Morgan) got his first ever traditional elk on September 2nd with a classic. 51@31 and 66" and the shot was 21 yards. she fell at 48 paces
a few days later I followed up with my first ever traditional harvest! small whitetail with the one piece you just built for me. 62" whip HS 48@28. shot was from 11 yards and fell at 33 paces
Danny with his first trad. harvest, taken with a 64" Whip
Congratulations!
The Pika came thru Dan:) 42@28 56" full length 1916 with 165 GT Grizzly.
Got this fox squirrel with the 42 pound RD Whip. This bow is sure shoots smooth and fast. Was wearing my Toelke Coups cap for luck!
John L.
Red Hartebeest
Duiker Doe
Wart hog
Laurent showing some great trophies he took in Namibia with his Lynx!
A couple Whip kill photos from Bryan Tucker. Well done Bryan!
Bob Anderson with a great Alaska Cinnamon black bear taken with a 64" SS.
Congrats!
Bryan Tucker's three day old Whip and a 200lb hog!
Good way to break in a new bow!
"Dan/Jared,
My son EJ stalked a rabbit last night and got within 20 yards then stapled it to the ground. He loves that Super D! Thanks."
Good job EJ, looks like the new super-D is a good fit!!
Love both this Lynx and the Whip HS! Both are 64" and killers for sure! These TX free range auodad didn't stand a chance.
Thanks for making a great product!
Sincerely,
Justin Ammons-customer for life
Jeff Robins with a great Cat he took with his Lynx!
Kent G. with his a Whitetail he Whipped!
Marty Rinke with his T/D Whip and another nice Sitka Blacktail!
Clint Hayden and a nice buck taken with his Lynx Recurve!
Doug Campbell with a Ewe Bighorn. Keep up the good work Doug!
"I shot my first whitetail with a longbow today, a nice doe at 25yds. i used my 64" Whip, 53 @ 30 that you built for me in April 2014. My broadhead was a VPA 175 gr. 3 blade. I hunted in Manchester, Michigan." Todd Oldford
Idaho bowhunter Cheyenne McElderry with a fantastic bull he took with a Whip!
Congratulations Cheyenne, keep up the good work!
A big WELL DONE to a hard Montana hunter and good predator caller Jay Sheffield on taking what may be the first Montana Wolf taken in modern day with a traditional bow!!
Using a mouth call he coaxed this adult female in to 20 yards and made a great 28yard shot with his Whip longbow
Seth S. With a great tom he WHIPPED! His first traditional kill, Congratulations!
Bugsy with aussie fox, Thats a hard to get trophy with a trad bow! Good job!
Ruth M. with a Montana carp! well done!
Ed G. with his TD Whip and a great Quebec black bear!
Eastern wild turkey shot in Kentucky in April 2014 with a 2pc. takedown 60" 56#@28. Bow was built in 06 and still shoots like a new one, thanks for crafting a bow of such quality it could and should be handed down to the generations to come.
Glenn Bennett


David with a Texas pig taken with a Lynx recurve
Jose with a great Mexico Whitetail!
Jose Gomez with another great trophy! A Texas Siika deer.
Duane Gopher and a Montana Bull taken with his Lynx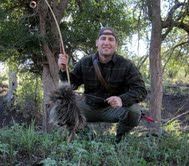 Jeff Lankford showing off a couple Whip harvests
Jose with his first Toelke bow, a
chinook, and a great Texas Whitetail!
Dean's first trad kill! A nice Montana mulie taken with a Whip
Steve with a great Ontario bull taken with a Lynx Longbow
Dan Blacksher with his first trad kill, 23yd shot with his Whip!
Congratulations to Trevor Knopp on his first trad harvest! A nice doe taken with his new Chinook recurve from 28 yards!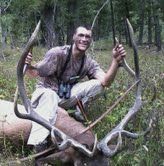 Christian's son Malachi with a beautiful 6x6 taken with a 62" whip, well done guys!!
Jud with his Toelke Whip kill, a 300lb WA bear!
Travis took this brute in Mississippi with a 46# Super D, Congrats on a super trophy!
Craig demonstrated a proper break in procedure for a new Whip, well done Craig!
"here is a button buck roe deer from France killed with the lynx you made. Those are very elusive and are very difficult to hunt from the ground. Spot and stalked, 12 yards pelvic shot , arrow exited through left scapula, down in 80 yards (5 or 6 seconds run away)"
Regards, Nogues
"Moved stand this afternoon, decided to hunt it for the last hour of the day and with fifteen minutes left this gentleman came by. Date 12-12-12 26 yards 2 blade zwickey 600 grain bamboo shaft. Don't like to shoot that far normally but it felt right, he went sixty yards. Hit the top of the heart. not bad for a soon to be 64 year old man. Thank you Lord again." Chuck Murray
"I shot the Black Hawaiian Ram in Laredo, Texas with a CX 250 Heritage and a 125 gr. Magnus." Joey Guerra
"The Hog was shot later that season on our family ranch with CX 250 Heritage and a 150 gr.VPA Penetrator"Joey
"I shot this raccoon in the morning, and I missed at the doe right after that. I did manage to get her that evening though! Elite Arrows cedar shafts, 165 gr. Simmons Treeshark." Joey Guerra
The buckle Dan Nigro received for winning the "Western states Triple Crown" with his Whip longbow
Jonathan Anderson holding a Mountain Grouse that he took with his whip longbow, great shooting!
Todd Zolkosky Wrote: 8 yard shot. Quartering away. Super D with VPA Penetrator 2 blade. Pass through.
Great job Todd!
Tim Golder With a beautiful Whitetail taken with his Lynx longbow, Great job Tim!
Customer John Kelly with his first trad harvest! Congratulations John
Thanks,
Doug
Customer Doug Campbell showing a great 2012 season! Congrats Doug! Thanks for the pictures
Pierre Lucas (S.B.D. bowstrings) and his son with his Canadian Spring bear
taken with a
52" Kestrel, Congrats on the great hunt!
Customer Jeff Lankford sent us these five pictures of his first "all trad" season!
He has been shooting the Whip for four years now and says it is his favorite bow.
Congrats on a great season Jeff!